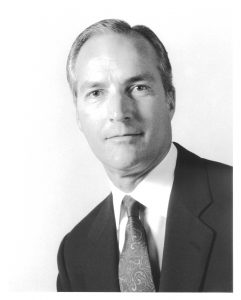 In September of 2000, Thomas G. Labrecque was diagnosed with lung cancer and died eight weeks later. Tom never smoked and was in good health prior to his diagnosis.
Tom was born in Long Branch, NJ, the third of eight children. After attending Villanova University, he served in the Navy for four years before joining Chase Manhattan Bank in 1964. He worked his way up and became chairman and CEO of the Chase Manhattan Corporation in 1990. In April 1996, after helping organize one of the largest mergers in banking history between Chase and the Chemical Banking Corporation, he assumed the position of president and COO. At the time of his death, he was chairman of Chase's International Advisory Council, a post he assumed following his retirement in June 1999.
Tom believed quality education was critical and should be available to everyone. In 1992, he created the Chase Smart Start Program, which annually offers 40 New York area students employment, personal and professional mentoring, and scholarships to any of 11 New York universities and colleges.
Tom was also a director of New Visions for Public Schools and immediately prior to his death was named chairman of the School Communities That Work Task Force, a national task force chartered by the Annenberg Institute for School Reform on the future of urban school districts, to research the best practices in urban education and disseminate the findings to school districts.
At the time of his death, Tom was also a member of the Board of Trustees of the University of Notre Dame. Earlier he served on the Board of Villanova, where he endowed the Thomas G. Labrecque Chair in Business Ethics in 1998. He had also served as a Trustee at Marymount College, Fuqua Business School at Duke University, and New York University.
Tom was also a member of the board of directors of Pfizer, Inc., Delphi Automotive Systems, and a trustee of the Hospital for Special Surgery in New York City. He was past president of the International Monetary Conference and the Financial Services Roundtable, and an active member of the U.S. Treasury Advisory Committee on the IMF and of the Business Council. He was a trustee of the Trilateral Commission and the Brookings Institution as well as the Central Park Conservancy, a director of the International Rescue Committee, and a member of the Council on Foreign Relations.